Article in Nelson Mail, New Zealand features "Falling in Love Backwards"
A Golden Bay couple tell Charlotte Squire it's never too late for love, even after a shocking start.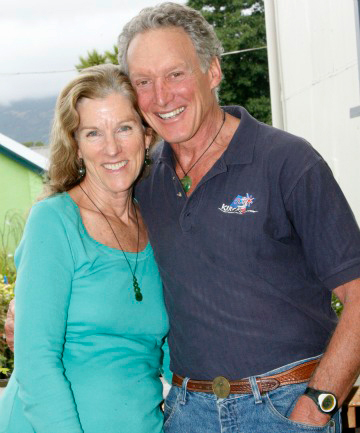 When Golden Bay self-help mentor Landon Carter saw the woman who flew halfway around the world to be with him, his reaction was not what either expected. Just as Diane Covington-Carter was stepping off the plane at Nelson Airport, he changed his mind and decided she wasn't the one for him.
He didn't hug her at the airport and "recoiled" from her in the car on the way home. The story of the Carters' far-from-smooth path to true love is enough to fill a book – and that's exactly what they have done.
Falling in Love Backwards, an Unlikely Tale of Happily Ever After charts the pair's rocky romance from their first meeting on a personal development course in California in 1979. That involved jumping off a mountain on a zip-line, and getting across a canyon on ropes, perhaps a fitting backdrop for the couple's journey.
At the course, Diane decided Landon was her "ideal man", though a little intimidating. Both were married at the time, so she "tucked away" her feelings. "Thirty years later I found his book and I emailed him and thanked him for changing my life. I also offered to help him improve his book," said Mrs Covington-Carter.
Mr Carter recalled her suggestion that "I think I can help you make this more dynamic". The couple eventually met in October 2009, and the following February, Mrs Covington-Carter left her United States home for a new life in Golden Bay.
She skipped Valentines Day during the flight – "perhaps an omen" – before the ill-fated rendezvous in Nelson. "You got off the plane and I felt trapped," Mr Carter recalled. "I was embarrassed by how I felt, so I closed down and did not say anything to her."
Mrs Covington-Carter said: "I was shocked at his behaviour at the airport since he'd said he'd surrendered to loving me. So I couldn't figure what was going on at all." But the pair had plenty of skills to work through such an unpromising start.
Mr Carter, 69, has spent much of his working life as a consultant specialising in team building and corporate cultural change, as well as personal development training and writing. He owns the Pakawau Beach Park.
Mrs Covington-Carter, 64, is also a published author, speaker and personal development coach. "When you fall in love, you fall in love with your fantasy. You think, 'This person's gonna make me happy'," Mr Carter said. "It's a great feeling but, in that scenario, reality challenges fantasy. The bloom starts to wear off. That's the whole saga, trying to get people back to the way you thought they were."
"The reality was, we had a good connection in the beginning, except I didn't fit his fantasy picture," said Mrs Covington-Carter.
After working through their their differences – a process Mr Carter said made him drop his past destructive relationship patterns and realise that Diane's love helped him accept himself – the pair were married last year. "Right now, when I get a bit grumpy, we just talk. We both look at it, we're the source. I'm responsible for how I'm feeling. There's no blame. There's never any blame. I often think, 'There should be blame here'," said Mr Carter.
Mrs Covington-Carter said she stuck at it because she appreciated her husband's many good points, and was "tired of that voice saying, 'Get away'. I liked the voice saying, 'Stay open, you stay tender'," she said. "I want people to know you can get through the pain if you have the tools. You can have a really awake, alive relationship. We're testaments to that.
"I think it's really all about being in a relationship and being with who that person is, looking at their goodness and working on the stuff that isn't," she said.
"We've had many learning relationships. We both really wanted to have someone to stick with. I could always feel the depth and now we really have it."
The Carters' book is available online in Kindle format on Amazon. There will be a book signing at the Wholemeal Cafe, Golden Bay, March 7 at 4pm.